Jack R. Powis, Jr.
Long Distance Riders President
Welcome to our web site at Long Distance Riders! Having learned so much about our members, I thought it was time for me to introduce myself properly.
I am originally from Youngstown, Ohio, but have lived in Florida for 36 years. I have an honorable discharge from the United States Air Force. While in Ohio, I was self-employed as a contractor with my company, Exterior Design. Upon coming to Florida, I continued Exterior Design but then turned in my hammer to become a mortgage broker. I went on to serve as an officer with the Leon County Sheriff's Office here in Florida and have been fully retired since 2020. I'm now happy to devote more time to riding. I just recently returned from a trip to Maryland to visit my daughter and her family. A beautiful ride and have plans for many more.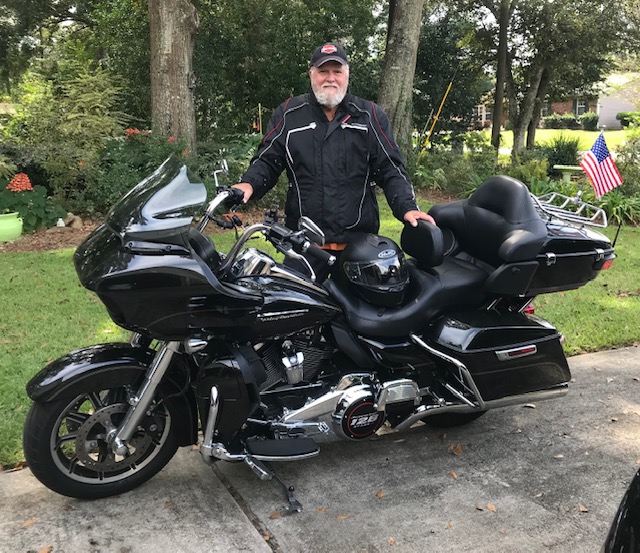 I've been riding since I was 15 years old when my parents made the mistake of giving me a little 50cc Suzuki. That was it…I was hooked. Since then, I have had too many bikes to remember. I liked them all. I currently own a 2017 Harley Davidson Road Glide Ultra and ride every chance I get. I've been President of the Long Distance Riders motorcycle site since its founding in October 2007. To date, I've certified close to 2000 riders, both in the United States and abroad. I've never considered it "work" since I'm doing something I truly enjoy.
I thoroughly benefit from the certification process as it keeps me informed and up to date with other riders and their experiences, and their many interesting and fascinating rides. The mapping process of an overseas ride can be challenging and quite a learning experience. There's a serious jealousy on my end when tracking the many rides, as they are all unique and take me to places and roads that I would never get a chance to see. I can truly say that if someone dropped me off in the middle of the United Arab Emirates, I could find my way home, due to the many certified riders that I've tracked in that area! I am proud to have a site that processes your US certification turnaround within 7 to 10 days from the time we receive it. Our member riders from other countries have their certification completed in the same turnaround time but it takes longer to receive, due to mail issues between the US and other countries. We are so pleased to have made so many friends both near and far.
As you may already know, our web site offers the chance to be certified for 4 endurance rides within a certain time frame. I developed the rides to include the Easy Rider, a distance of 500 miles in 12 hours, the Full Throttle, a distance of 1000 miles in 24 hours, the King of the Road that boasts 1500 miles in 36 hours, and the ultimate Born to be Wild that is Coast to Coast in 48 hours. We kicked off the opening of the web site by achieving the Born to be Wild designation as the inaugural ride, along with buddies Mike Scott and Red Barnes. It was truly a ride to remember and has been the ultimate ride so far!
I organized the Motorcycle Torch Run for Special Olympics in Florida, which consisted of a 500-mile "Easy Rider" traveling through the cities of Tampa, Ocala, Jacksonville, and Tallahassee. A number of Harley Davidson dealerships have incorporated our Easy Rider into their HOG groups, creating a group ride for the 500-mile designation. I am happy to acknowledge my friends in Dubai, India, and Russia, who have also organized group rides through Long Distance Riders.
I've been married to my wife Mary Lou since July 2000. Between us, we have four children and eight grandchildren. Three of our grandchildren live in Frederick, Maryland, three live in O'Fallon, Illinois, and the other two live right across the street from PaPa and MiMi! Mary Lou has planned several events for the Florida Sheriffs through her employer and has been active with the Committee of 99, an organization that supports Tallahassee's law enforcement. As she is also now retired, I am happy to say that she lends her expertise in planning and organizing for Long Distance Riders.
When I am not riding the Harley, you can find me on the golf course, fishing with friends, enjoying the opportunity to worship with my family at our neighborhood church, and watching Ohio State football! Go Buckeyes!
Please take a moment to browse our site. We have some interesting pages to view such as Community Spotlight which highlights our members and their stories, the Members page that catalogs every member who has been certified through LDR, and our Shop that includes LDR merchandise such as shirts, key chains, koozies and more. The scrolling photos on our homepage were recently added and sent to us by our members.
I look forward to meeting more riders and hearing their stories in the upcoming years. If you have any questions, comments, or ideas, I'd be happy to hear from you. You can email me directly at jackp210@aol.com.
Ride safe,
Jack