I've been riding motorcycles for 33 years. During that time, I've done many motorcycle rides here in Ireland, the U.K., and Europe, but none documented. I came across the Long Distance Riders website a year or 2 ago and had it in mind to submit a ride for possible verification at some future date. My current bikes are, a 2000 Honda ST1100, a 2001 Yamaha FZS1000, and a 2008 Suzuki B-King 1340.
Due to the Covid pandemic, we had some serious travel restrictions in Ireland. We were in nationwide lockdown from just after Christmas to the start of June. With the easing of restrictions, I took Friday the 18th of June off work, with the intention of being able to visit some locations on the Irish Photo Rally and the I.B.A. Ireland Wolfhound Rally, plus 2 other motorcycle photo rallies I have been participating in the last 6-7 years, thus combining the rally locations with an attempt at an Easy Rider 805km ride.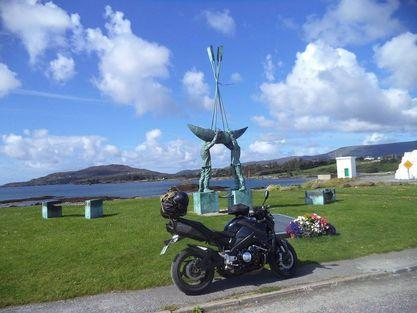 I started the ride with a fuel receipt at 06.32 a.m. at a local petrol station in Carrick-on-Suir, Tipperary (my home town) where a local lady signed my form as a starting witness. A steady run up the motorways into Northern Ireland, traveled on some nice country roads, I then rode in the North visiting the rally points in counties Down & Antrim, then had to make a short detour along the way due to road work & diversions but only about 10 minutes lost.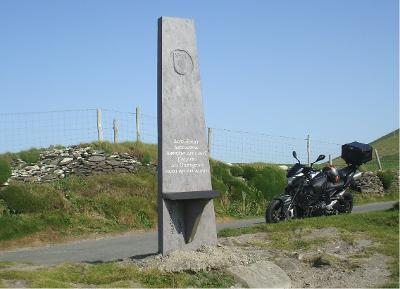 On the return journey, I met with some heavy lunch time traffic in Belfast and later on a couple of delays around Dublin as evening traffic built up. Returned to the same station in Carrick-on-Suir, a quick splash of petrol in the Bike and got my final receipt at 17.32 p.m. I bumped into a buddy from work who agreed to act as a finish witness and signed my form.
I really enjoyed the beautiful ride, and was happy to finally achieve the "Easy Rider" 805 km designation. I made a few mistakes and some wrong turns along the way, but qualified easily for the certification.
I'm looking forward to the next couple of rides I've planned over the coming months. It's good to be back on the road again!