Hi, my name is Navaseelan Jayarajasingam, hitting the early five series at 50, and currently residing in Qatar. I have been riding different types of somewhat modest motorcycles since my college days in Kuala Lumpur, Malaysia. My office colleague, Deepak Poduval, is a big fan of motorcycling in Qatar. Inevitably, with some 'arm twisting' he convinced me to purchase a BMW R 1200 GS. He framed the purchase as an investment in my/our well-being and sanity. Needless to say, I couldn't argue with that because I needed some escapism at 50.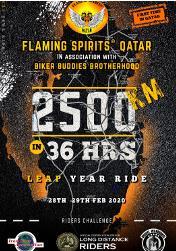 Then, one of the members of the FS group, Rajesh Kongath, informed us regarding 'endurance rides' in collaboration with Iron Butt Association 'IBA', Long Distance Riders, and Wheel Warriors. A few of us were really excited and keen to participate in this endurance challenge. This is like 'old dogs learning new tricks' and we rose to the challenge. Also, we always had the fire in our belly for motorbikes and were only waiting for the passion to be unleashed. This is how we managed to cobble together 14 riders from Flaming Spirits MC. We also had guidance from our mentor Vivek Mehta (President of Biker Buddies Brotherhood), who resides in UAE and had completed endurance rides there. Hence, we had several meetings and conference calls with him and finally selected 28 & 29 Feb 2020 for the Endurance ride.
The group decided they wanted to accomplish the 2,500 km ride within the 36 hours challenge (i.e. 14 legs to complete the endurance challenge in Qatar). Our Road Captains of Biker Buddies Brotherhood – Flaming Spirits team were Mustaq Ahmed, Aneesh Cheriyammal, and Ajeesh Jacob, and the rest of us played our supporting role to make this endurance ride a success.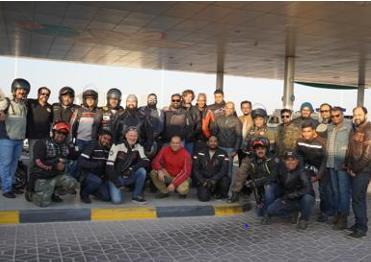 On 28 Feb 2020, the day of the ride, we all assembled @ 6.15 am, Waqod Petrol Station, F Ring Road. This was the start and end point of our endurance challenge. We received huge morale support from our fellow Flaming Spirits riders, who flagged us off in this 1st leg ride of 150 km to Al Thakira at the northern side of Qatar.
After fueling and resting, we continued on our 2nd leg. Unfortunately, this is where we encountered engine problems with Road Captain Aneesh Cheriyammal's bike. His bike lost power and we did not have a planned strategy for this setback. We just stood by and watched a few of them repair the bike. Other members just took the time to eat, drink, and smoke cigarettes. At this juncture, we did not realize that we would be running out of time. Nevertheless, once the bike was fixed, we continued our journey for leg 3 and 4.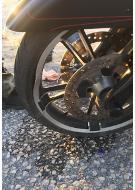 In leg 5, Qatar – UAE road we encountered another issue – our Road Captain Ajeesh Jacob's bike went into a pothole and the front rim and tire of the bike were damaged. Ajeesh Jacob – a veteran and hard-core biker – was quick in his speed of thought. He communicated with another Flaming Spirit biker who had a similar bike and got the mechanic to replace the tire and rim. We had wasted about 20 minutes here and, therefore, Ajeesh Jacob encouraged us to continue in the interest of time. To this end, we left our support vehicle and continued the ride. At this time, Ajeesh Jacob continued the ride on his own and we continued our ride for leg 5, 6 & 7.
End of leg 7 @ Al Thakira, Swapnil Mokal decided to quit as his hand was hurting. Therefore, we only had 12 riders continuing as a group for leg 8 & 9. Ajeesh Jacob was doing his solo ride and was hoping that he would be able to achieve the first target milestone of 1,610 km. Indeed, he had wasted a considerable amount time, approximately 2-3 hours.
Our first milestone was at 1,610 km @ Southern part of Qatar, Messaid Waqod Petrol station. We completed it in 23 hours and managed to get some rest while waiting for Ajeesh Jacob to join us.
Finally, with the full 24 hours looming (i.e. 15 minutes more to meet the deadline of 24 hours), we heard the loud thunder of a Harley Davidson Street Glide – Ajeesh Jacob had arrived! All of us completed the first milestone (i.e. 13 rides in total). We owed this success to the good weather and less traffic on the road.
It was approximately 7.30 a.m. now and we had the remaining 900 km to complete our final legs – unfortunately Rown Mathews pulled out due to fatigue at this juncture. Once again, our Road Captain Aneesh Cheriyammal's bike was in distress – this time his rear tire was worn out and the thread exposed.
We continued our ride without him for the remaining legs 10, 11, 12 & 13. Road Captain Aneesh Cheriyammal was also a very determined lad. He rode his bike to the tire shop, got it replaced and came back to the starting point @ Messaid. He eventually continued his solo ride.
While riding in leg 10, Aagi John Kollannur's bike started to leak and the oil splashed on my office colleague, Deepak Poduval. Needless to say, 'not a Kodak moment' and the fatigue were beginning to take effect. Deepak was pissed off with oil on his bike, jacket, and helmet. Aagi John Kollannur had to pull out too. The endurance race claimed more casualties.
We had the remaining 11 riders – 10 in a group and Aneesh Cheriyammal on his solo ride. We continued the ride and stepped up the pace – we were literally 'racing against time' at this point. At this stage, I took the lead, as I was familiar with the routes. We managed to complete leg 11, 12 & 13 in good time.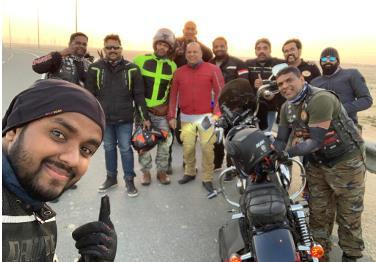 We completed leg 13 @ Waqod Messaid petrol station at 3.30 pm and all of us were pumped to complete the final leg 14. While we were taking a 15-minute breather, we saw Aneesh Cheriyammal arriving on his Triumph Speed Triple – rounding up the 11 riders again. This was in fitting tribute to Flaming Spirit's "Nobody gets left behind" motto.
We did the final leg 14 and managed to reach out to our final destination @ Waqod F Ring Road at 6.30 pm. We were ahead by 30 minutes and received a huge reception by our Flaming Spirits group riders and representative from Batabit 'Ministry of Culture and Sports and other motorcycle groups in Qatar.
The sense of elation among the team was palpable despite the many inevitable challenges along the way. We had achieved our goal by completing 2,500 km with 36 hours and Aagi John bought sandwiches for the riders as a token of his appreciation. It was the best sandwich I had tasted in my life, given that I was very tired, exhausted, and hungry!
I was under no illusions about the challenges ahead when I first embarked on the journey. I am glad we took the challenge and experienced a slice of life at 50 – something I will cherish forever with all my mates. This old dog is certainly ready for more new tricks.
A special thank you and gratitude goes out to "Biker Buddies Brotherhood – Flaming Spirits" and other Flaming Spirits biker brothers who encouraged us to finish the endurance challenge on 28 & 29 February 2020.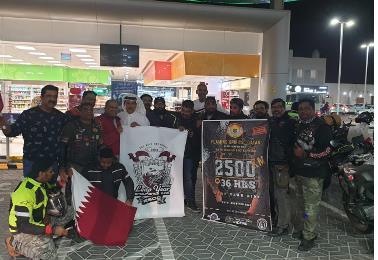 Biker Buddies Brotherhood – Flaming Spirits King of the Road team
Mushtaq Ahmed – Road Captain
Aneesh Cheriyammal – Road Captain
Ajeesh Jacob – Road Captain
Rajesh Kongath – Rider
Satish Madhavan Nair – Rider
Nikhil Ravindran – Rider
Rahul T Kishore – Rider
Abhilash Rajan – Rider
Manoj Pillai Rajan – Rider
Deepak Poduval – Rider
Navaseelan Jayarajasingam – Rider
Aagi John Kollannur – Rider completed 1,610 km
Rowan Mathews – Rider completed 1,610 km
Sawpnil Mokal – DNF
Raghu Krishna – Support vehicle