All challenges starts with an acceptance. Accepting the fact that there will be difficulties; accepting the fact that it is allowed to fail, but not to turn back; accepting the fact that you will need to endure pain or stress to complete and accepting the fact that competing is more important than winning. It is with this frame of mind that me along with 13 other bikers including two pillions set out to conquer the challenge of covering 2500 kms in under 36 hours in UAE.
It was a privilege and honor to lead the team along with Balamurali Mohan and support from Hemant Joshi for the second time in an LDR ride in less than a year. We did the Full Throttle 1600 under 20 hours in March 2019 with a team of 21 bikers and this time for King of the Road 2500, most out of the 14 bikers were part of the old team.
Like any challenge, we did our homework and all our preparations and planning were geared towards the date of 10 Jan 2020 to start the ride early in the morning. Few days before the start of the ride, there was a weather announcement of continuous rains over the weekend which then can affect the whole preparations. We collectively made a call to assemble on the day to assess the conditions and then take a call to proceed or not. 3 riders decided to drop out as they did not want to take any chances bringing our initial count from 17 to 14 by start of ride.
Every one made it on time to the assembly point with their expectations, aspirations, and excitement really top level. The rain had stopped and the weather forecast on our mobile apps showed clear skies with light drizzle here and there. We decided to ride and start our journey to 2500 from Dubai. The first stop was to Ras Al Khaimah which is 95kms north and from there we turn south through one of the main highways. Mid way through to the ride, the weather once again proved its smarter than any mobile based apps and started pouring down. By the time we reached our second stop in Alain road and nearly 200kms into the ride, we were all soaking wet right down to our underwears. One of our brother was shivering right down to his spine and he decided not to take it any further before being seriously ill. He will make another attempt in a months' time with another group. The tribe of now 13 bikers now continued towards Alain and then to Abu Dhabi.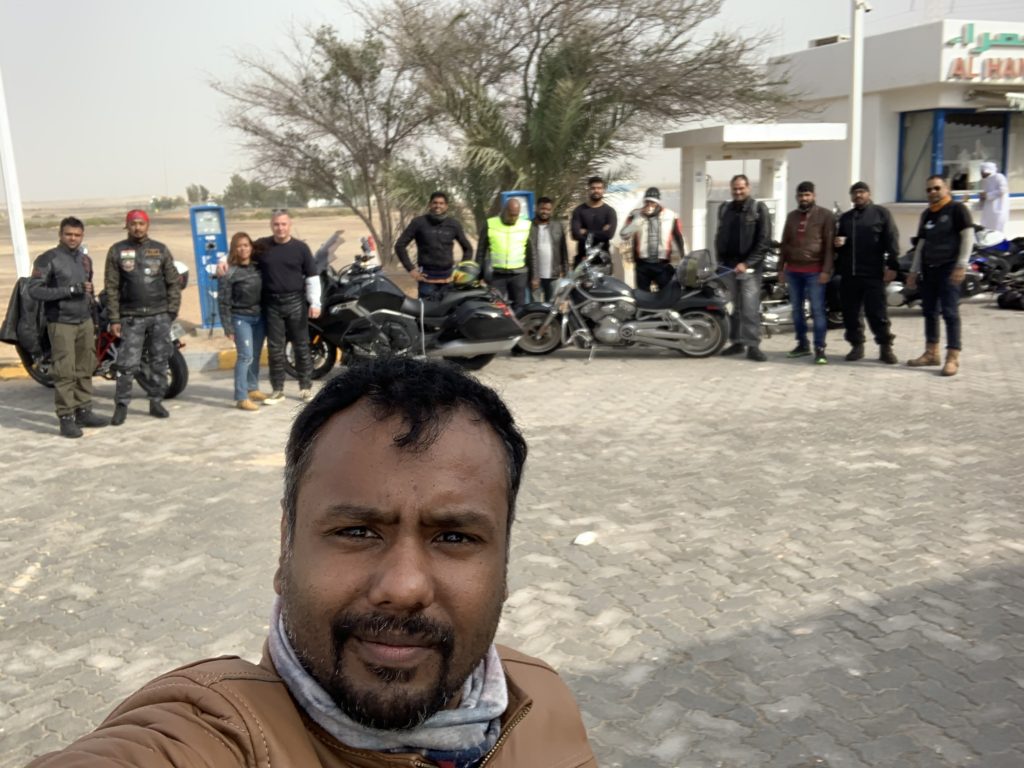 By the time we reached the international highway from Abu Dhabi to Saudi, we were already behind our targeted time to complete in 30 hours. Due to heavy rains we could not keep up the average speed on wet roads and on top visibility was limited through the helmet visors. Even the stops took longer because everyone needed to dry off a bit, change gears and check their vehicles. Nevertheless we kept our focus on to complete in 30 hours.
We were able to catch up a bit along the Abu Dhabi – Saudi border highway with speeds reaching 150-160 kmph. The only consolation during the whole ride came in this stretch and close to the Saudi border where we saw sun coming out of the clouds for the first time after nearly 8 hours of ride. We capitalized on this and the 2 hours of sun allowed us to be warm and dry again. Not everyone had a sunshine moment of riding as one rider saw his mobile fly of his mobile holder at speeds of 140kmph and another rider lost his wallet with cards and money at one of the stops.
Our next destination was to hit Liwa, which is home to the biggest sand dunes in the world. To reach there we need to cover a stretch of around 110 kms through the desert and in pitch darkness with the headlights and tail lamps as the only source of light. All you could do here is to follow the tail lamp of the rider in front and the captain taking the risk with keep up the speed. Balamurali went ahead with me following him by blocking the second lane and others continuing behind me. We reached Liwa a couple of hours after sunset and found that 3 of our riders are missing. After tracking and guiding them to our stop point we rode back to Abu Dhabi on the Hamim highway. Here also we could not increase our speeds due to the presence of speed cameras all along and the absence of any street lights. After riding for nearly two hours, we hit the Abu Dhabi –Saudi highway again.
Entering into midnight and the rains hitting at regular intervals we routed our way around the Saudi border again and came back to Abu Dhabi again. In between we stopped for some snacks as we were losing body heat with the extreme climate and not having proper meals for the last 18 hours. The challenge to keep yourself awake starts after 20 hours and we entered this zone. Sleep deprivation and fatigue kicks in from this point where the mind and body goes into a conflict of who wins. We stopped 200 kms away from Abu Dhabi and called for a break of 40 mins to have a 20 minute power nap.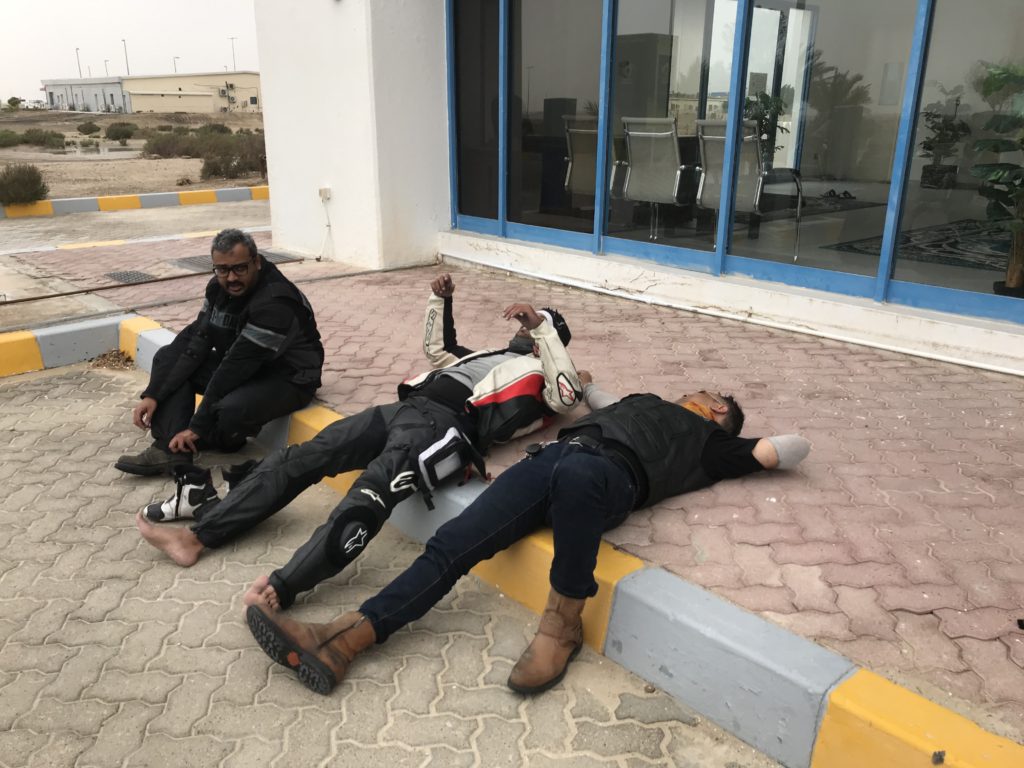 The power nap worked like recharged mobile phones and everyone found a new release of energy into the last lap and another 1000 kms to go. We headed back to Abu Dhabi – Alain road and from there into Dubai where our destination awaits. The previous night, it rained heavily in Abu Dhabi and we were completely unaware of this fact. As soon as we entered the city, there were big pools in middle of the highway which effectively cut out many lanes and dangerous enough to damage our bikes. We had to regroup after every bike had to steer through these pools and safely start out. Here one biker decided to call it off after 1900 km due to health issues. This was his first attempt at any long distance riding and he has earned his way for a well-deserved Full Throttle qualification.
The Abu Dhabi – Alain stretch was the most challenging and enduring out of all the experience we had on the roads. Heavy rains reduced the visibility down to a few meters and made it really uncomfortable to ride. It was difficult to locate your group and at this point everyone was on to himself. The formation was lost and as information given to all before the last stop, they had to take the Dubai exit after reaching Al-Ain city. The city of Al-ain welcomed us with even more deadly water pools and some of our bikes turned off entering them. The transport authority had to close some of the roads and re-route drivers to other roads that take you out of the city. The tribe now disbanded had to find their own way and luckily everyone managed to navigate their way to the first gas station on the Alain-Dubai highway. We halted for our last lap of 500km.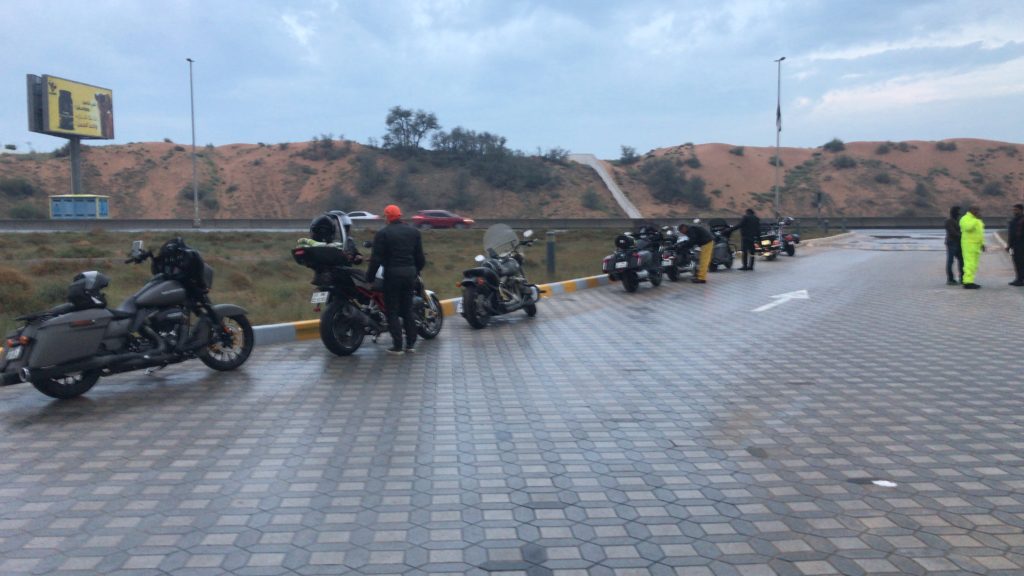 Tired, exhausted, sleep deprived, drenched and shivering, the group continued towards Dubai and Ras al Khaimah direction to sign of the journey that started 28 hours ago. On the way to Ras al Khaimah, one biker from the tribe lost the way and ended up in Fujeirah. Three riders who lived in a different city, decided to route back from Ras Al Khaimah to end their rides near their places of residence.
The rain clouds accepting their defeat in stopping us to complete our challenge retreated into the mountains and gave way to clear sky during our final 100 km journey back to Dubai. Our mentor Mr. Vivek Mehta was waiting for us in our final stop. With the last bit of energy left in us, we managed to raise our arms thumping the victory sign and an emotional release of achievement.
The whole journey became a learning experience and with every ride, you get something new. And when you're riding with people, they are going to be your biggest source of strength. You need to inspire and get inspired all along the way. For future challengers of LDR tasks, I have just two words for you – "Persistence and Determination".
Obviously, the road does not end here. Pushing the limits has always been a man's never ending endeavor. Hope to back again with yet another challenge, but until then I recover, prepare, plan and push!!!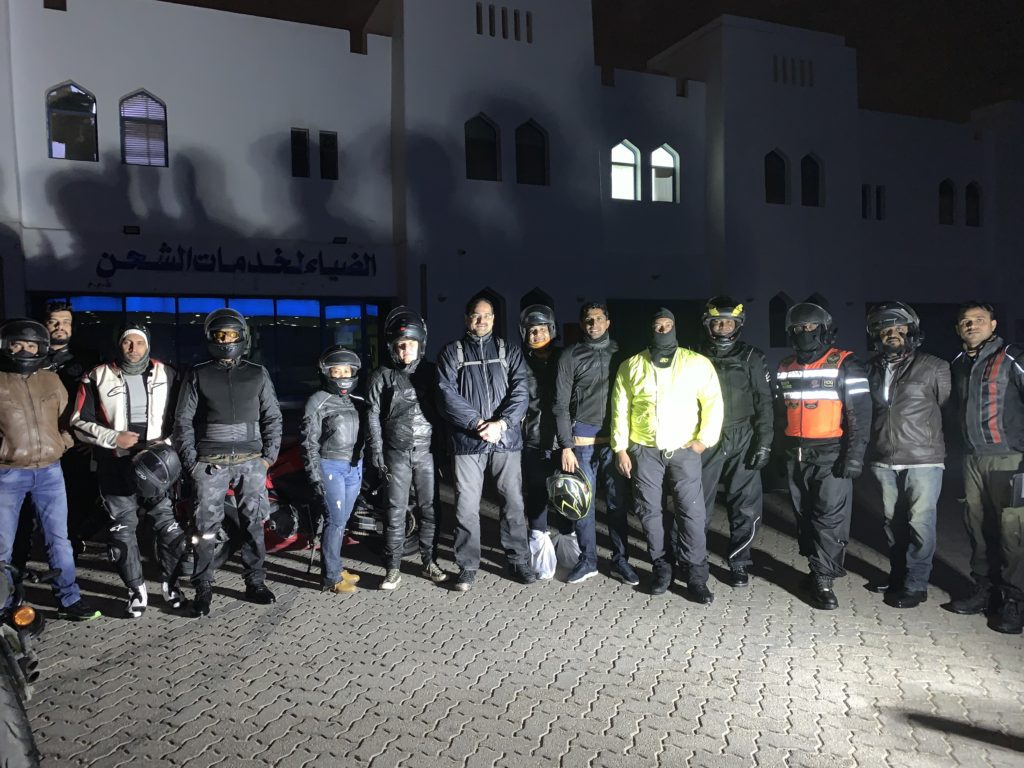 Thank you Balamurali Mohan, Hemant Joshi and Mathew for the road support
Thank you Andric Schulz, Blessida Schulz, Kenan Dsouza, Sajjad Paradesi, Yogesh Wadke, Sudheer Badar, Siraj Chembayil, Ranjith VKP, Nazim Saleem and Ravinder Singh for being such a wonderful team of bikers.
Thank you Sathesh Gopinath for being a great helpful pillion and assisting with the paperwork and documentations.
And Finally thank you Vivek Mehta for all the organization and efforts you have employed to bring a group of bikers together.
All the best to All,
Subin Mohan