One day in the spring of 2019, a friend from Instagram named BDRider70 called me and said, "Hey Tom, are you going to that World Record Harley Parade in Texas?" I replied I would like to go and had the thought in the back of my mind of attempting something I had never done before, long distance MC riding. As if he were reading my mind, he then said to me, "While we are at it, we could do the LDR challenge and see if we can set two records!" I laughed and said, "Let's GO!"
BDRider70 said that we would have to document the trip and he knew another rider from Instagram named PA BEARDED BIKER who is a professional moto vlogger. Perfect! Video to document the challenge!
Then the butterflies came into my stomach…Wait a minute, I have never driven a MC over 450 miles in a day. Heck, I haven't driven a car straight for over 12 hours in the last ten years! What am I doing??! I must be crazy!
So, I sat down and fired up my MAC. I started watching all the YOUTUBE videos I could watch, read dozens of articles, wrote down notes and started using Google Maps like I was a NASA engineer…OK …do we go West? or go South West? Or go West and then South…My cell rings, "Hey Tom, can you be the Navigator and map our route out for us ??" What?? Was he reading my mind again!?? This is spooky…
The day arrives…. We have our maps, log sheets, GPS, snacks, water, cell phones, Sena intercoms, etc. While BDRIDER 70 and I are on a late model HD Ultra Limited and a Road Glide, PA BEARDED BIKER decides to up the ante and is going to ride a 2007 HD Sportster with 48,000 miles on the odometer, no cruise, no fairing, but has to have 6 extra quarts of oil for the trip, one way!
We are ready and the adrenaline is pumping through our veins as none of us had previously attempted a challenge like this. This is something we had only read about or seen on YOUTUBE.
After months of planning, Ready, Set, GO! We're off! 5:05 AM. on October 1st.
PA to Ohio, doing well! A little dark out, so we watch for deer.
Ohio to Indiana, it's daylight now and we keep a steady pace. We keep our stops under 10 minutes. No extra time to spare.
Indiana to Illinois, The Land of Lincoln.
We make it to St. Louis, MO. I have never seen the Gateway to the West, so we ride towards the Arch…. Bad Idea, traffic jam! Rush hour in the City, Hot out!!! Sweating in full gear in 95-degree heat…. We press forward! The Arch is cool, and I feel like the settlers did in their wagons traveling West to find property back in 1800!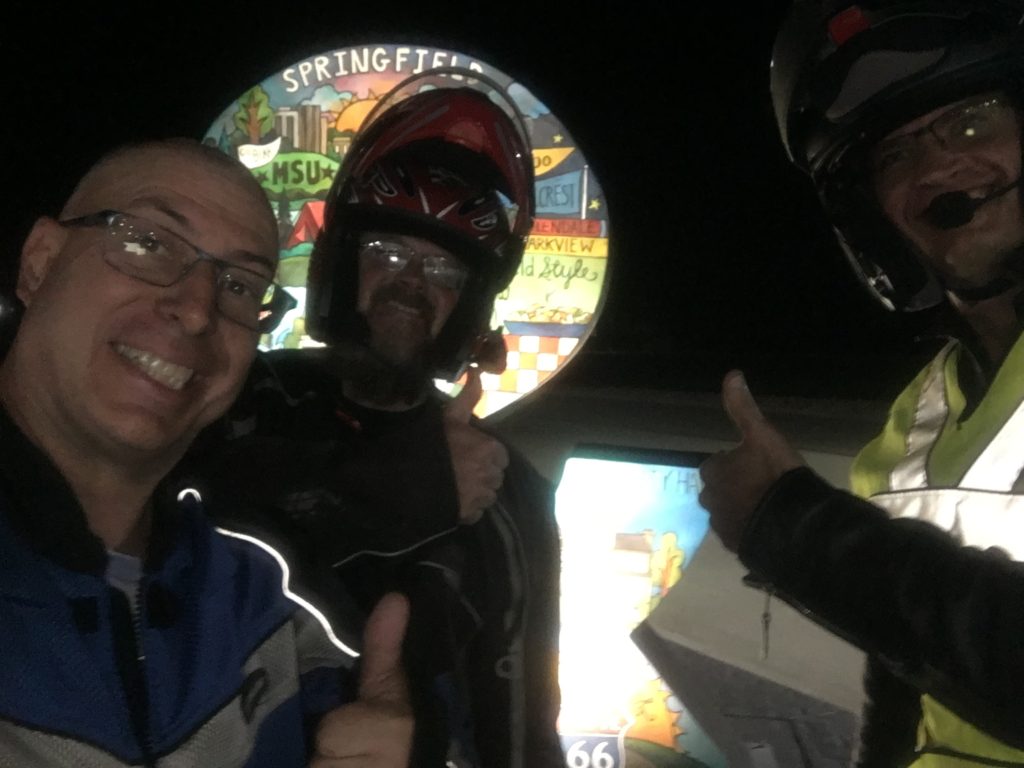 We have a little extra time, but we don't use it for food. We stop at the Midwest Harley store for a quick purchase of Poker chips. Clock is ticking, shopping is over because the store closes and the employees go home, leaving us in the parking lot…
The sunset is pretty along the Highway, but we are growing weary and it gets dark again.
On our way to Kansas City but no time to stop for world famous steaks.
We head South to Carthage, MO. The end is getting closer! We stop at Casey's General store. That's when I hear BDRider70 ask the store clerk, "How far is Kansas? "What ? ? Wait, why would you ask that? We only have an hour or so to go?? "Well, Tom, It's not that far…" But I'm tired and have been dreaming of my bed at Motel Six. A vote is taken, and I lose. Off to Kansas we go!
We stop at the only store open in Galena, Kansas, another Casey's General Store. I strike up a conversation with the clerk as I buy my only cold coffee drink for the trip. He asks us what we are doing at midnight in Galena, Kansas. I told him, "Two nuts came with me to get their picture taken by the Coca Cola sign across the street." He fell over when we told him we were from Pittsburgh, PA.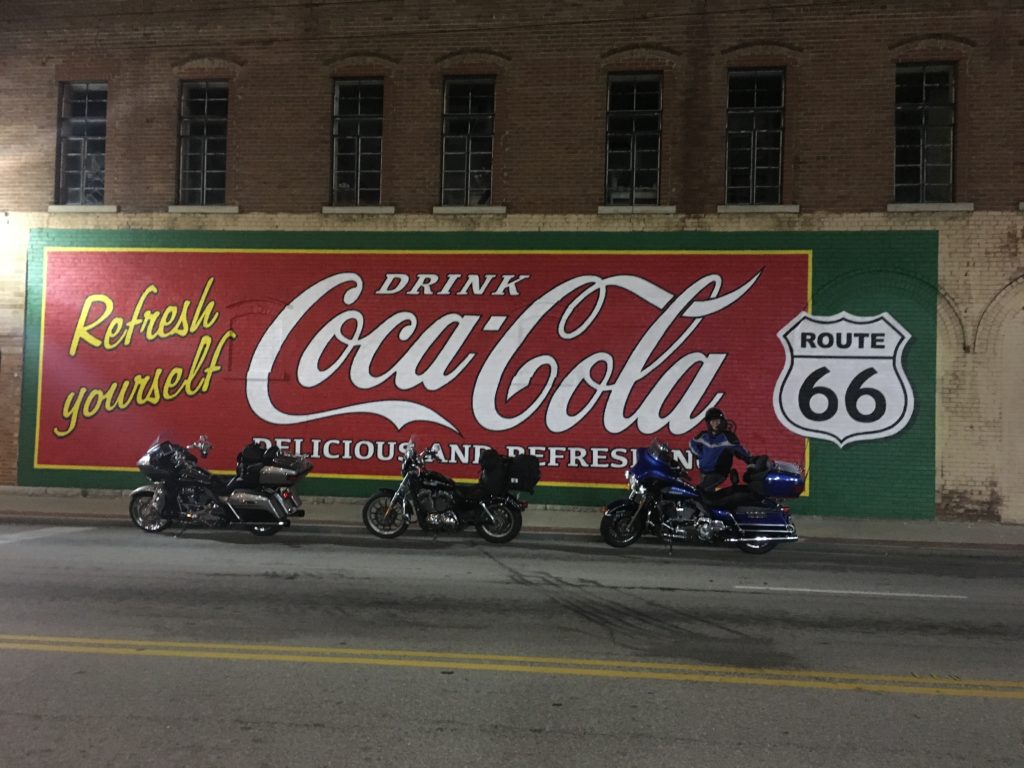 OK…let's finish this! Time to go!! I am still not happy about the detour, but it is worth getting our pic at the sign on the building. I plot my revenge for the rest of the ride. I love the intercom on the Sena 20S Evo. I start to sing Spanish songs that I don't know the words to and add some Freddy Fender in with it. I don't speak Spanish and I make up songs as I go. My AMIGOS ask me to stop, but I just can't help myself. I am tired and I am getting punchy… It is for their own good. I continue to sing. I keep us awake for the last 100 miles. I am leading the way and my eyes are burning. I just keep singing louder and going more slowly. We don't want to hit any deer…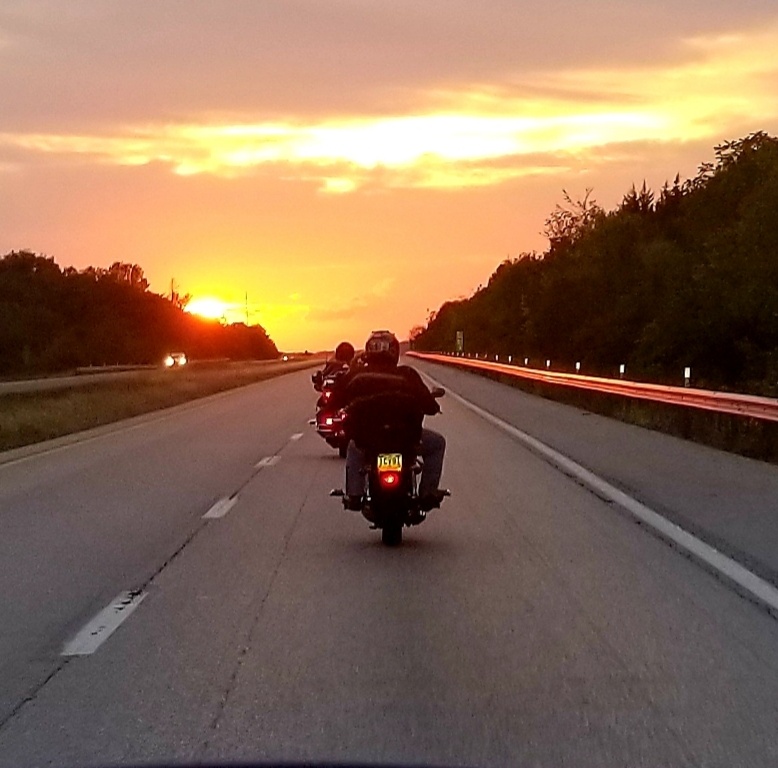 On the horizon is Springfield, MO! The birthplace of Route 66! History in the making. I am so longing to lay my head down on my pillow!
Last stop! Kum & Go gas station! We made it! I feel like Rocky Balboa on the streets of Philadelphia. The theme song is running through my mind. We rode 1,151 miles in 18 plus hours!! We just need that one last witness to sign the form proving we did it! I run inside the store, bloodshot eyes, begging the clerk to sign my paperwork. She says "I don't think so" …. OK..where are the police? "They just went by the store," she says.
We wait a little bit and out of nowhere a young man appears wearing only shorts and cowboy boots. He is singing too but is also carrying a gold lamp stand with the lamp shade still attached. He smiles and walks right past us and goes into the store. He then comes out of the store and wanders off into the night with his full-size gold lamp stand. We just stand there! Dumbfounded! Then we realize we didn't ask him to sign our forms….
Ok, plan B… We make it to Motel Six. We find a nice police officer there collecting evidence from a crime scene two doors down from our room." Excuse me sir, when you're done with the meth lab, would you please sign our forms?" "Sure", he says, "Be glad to! Let me take off my rubber gloves first…"
I must tell you that I wouldn't trade one minute of this trip for anything. This was our first LDR challenge and we fought hard for it. We received our awards after Thanksgiving. We then went out to celebrate our victory at the local Waffle House. This is one Christmas present I won't forget! Ride on Brothers and Sisters!
Feliz Navida!
PSP Tommy G, BDRider70 and PA BEARDED BIKER