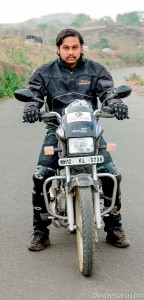 By Devjeet Saha
We, human beings curiously risk in pushing the limit of machines and ourselves, most of the time it pays off.
Everyone prefers motorbike of 200 cc or more for 1610 km in 24 hours. I wanted to push the limit of myself. I chose Hero Splendor Pro, 97.2 cc bike for 1000 miles in 24 hours. This is a popular motorbike in India, used for daily commute. Friends and bikers questioned me – will the bike sustain the stress. I surprised everyone, including myself by completing 1618 km in 24 hours on my 97.2 cc motorcycle!
This ride raised my confidence on my motorbike and me. I wanted to do more feats on the same machine. I was longing for a 2415 km in 36 hours ride. I decided to ride the same motorbike. Once again, I faced the question – will the motorbike sustain the stress?
I am always ready for motorbike rides. However, this ride was something out of the way because of the motorbike I have chosen. I needed to prepare better.
In 2009, I rode Hero Karizma, 223 cc motorbike for 36 hours, completing 2614 km. This time it is a 97.2 cc motorbike to do a similar feat. This thought lingered in my mind all the time. I was more concerned about my average speed I need to maintain. Hero Splendor Pro is a small motorbike and has a top speed of 110 km/h at completely open throttle on flat road. Reducing the payload was the only way to raise the average speed.
I am healthy and fit person, clean from alcohol, smokes, drugs etc. I started workouts to reduce my weight, as I am the biggest payload. Suppers consisted of fair amount of oatmeal and milk. I also stopped drinking tea and coffee so that when I take them after a long time the effect of caffeine will be stronger. During the night rides, these drinks help me stay awake and alert. In addition to this, I started practising to stay awake for longer duration at a time, but while riding it is a different matter altogether. Power naps of 10-15 minutes are very helpful to keep one stay alert for long.
Internet was a big help for route planning. I am very familiar with the 805 km distance from my 1610 km rides. This time it is beyond that '805 km' I need to ride. First, I needed to locate on route fuel stations for fuelling and documentary proof of the ride. Some Facebook friends who resided along the planned route helped me locate a few fuel stations and roadside eateries (we call them 'Dhaabaa').
Only 36 hours in hand and a motorbike with low average speed, every second counts. I strictly restricted time I spend for fuel, documentation, food and restroom. I carried a stopwatch with timer to help me take power naps if needed.
It took almost a year to prepare myself for this 2415 km ride. Meanwhile I completed few more 1610 km in 24 hours ride on motorbikes ranging up to 225cc. Every ride was an experiment, a training exercise for the 2415 km ride.
Hero Splendor Pro motorbike is very small. As I mentioned earlier, we use this motorbike for daily commutes. At most, people will wear a helmet as a safety gear. Hardly anyone takes this motorbike above 50 km/h. No one dares to take this for a long distance commuting. During my speed rides, I put on all my safety gear – helmet, jacket, lower, boots and gloves. Wearing all these and sitting on this motorbike makes me look like the Hulk! People here are not used to it, so they stare at me, as if I am an alien. Most attention I attract is at the roadside eateries and tollgates. Sometimes, the highway police stop me to interrogate. I keep all my papers clear, so no issues, only loss of time. Most people think I am stupid, riding such a small motorbike wearing all these gears. However, riding without safety gear is a big 'no-no' for me. Even my parents will not allow me.
I want to catch a good sleep before I commenced my journey of 2415 km in 36 hours. On the day of the journey April 5, 2015, I was little tense throughout the day. My residence is right next to fuel station on the National Highway connecting Mumbai and Bengaluru. I reached the fuel station 15 minutes early. Family and friends flagged me off at 09:59 hrs.
The journey was very difficult. I dodged the morning traffic to beat the time. Not a single second can be lost. Traffic thinned out as I rode towards my first stop – Kolhapur at 234 km.
Tarmac road to Kolhapur is just good apart from a few 100-meter patches of bad road due to ongoing construction. Even though in tension, I was enjoying the ride. As day rolled I started feeling the summer heat. I reached the first fuel station at 13:23 hrs. After fuelling, without wasting time I rode off towards my next stop – 480 km to Kallukat village in the state of Karnatak.
Afternoon sun was making the journey very uncomfortable. Drinking water was not a problem. I had my water bottle in my backpack with an extended sipper. I was careful not to dehydrate myself. Things were going well as per my expectation.
As we, all know Murphy's Law can strike any time and it did. I reached my third stop at 01:58 hrs. The fuel station was close with few lights on. I honked to wake up if anyone was present. To my relief, a man walked out of the office room with sleepy eyes. While fuelling I took out my cash-card for payment, the man shook his head. They do not have the card swap machine or provision to give any proper receipt at that hour of the night. That means I do not get any kind of proof for that stop as required by the certification body. I took some pictures of the motorbike at the fuel station with my cell phone.
This is a tedious journey as I am not able to thrust up beyond 80-90 km/h. particularly, in the night the rides are boring as the ambience is only the lit tarmac ahead. This hypnotic effect made my eyes heavy and forced me to take brief stops for tea. Sometimes pouring cold water was enough to drive away sleep. Whatever, I only need to complete this ride in less than 36 hours.
I reached the fourth stop at eight in the morning and found they too do not have the cash-card swap machine or the rubber stamp for receipt. I took the plain receipt and rode my way. On the way, I came across other fuel stations who could not give me an electronic receipt or proper cash receipts. Well, I had no choice other than to accept what was in the offer.
I am riding for the last 22 hours or so. Gradually my fatigue is increasing. I would stop by for a minute or so to cope with my drowsiness. I would park my motorbike on roadside and lie down beside for a power nap strictly for 5-10 minutes monitored with the timer. Food was out of question, as it makes me drowsy. However, I was having some energy bars and energy drinks to keep me going.
During the journey, I was thinking only about how to complete this ride successfully. Hero Splendor motorbike was performing well as per its capacity. I was confident about the bike and about me too. This confidence was motivating me to ride on.
I had started my ride on April 5, 2015 at 9:59 am from Shell Petrol Pump. Riding for more than 34 hours now, the road seems to be endless. Final destination was closing in. I am just 22 km from the final destination. I was afraid of the city traffic at this hour, though my starting point was by the highway. My mind was blank. I was cutting through the moderate traffic.
Finally, on April 6, 2015 at 9:13 pm I rode to halt at the point I started from – Shell Petrol Pump. I was still on my bike, with head hung and murmuring – "I did it! I did it! I did it!"
I heard some voices congratulating me. Raising my head, I saw all my family and friends were there to cheer me. Bike guru – Mr. Dilip Bam, Mr. Fanindra Khanapurkar (Head – Hero Training Centre, Pune), my parents and close friends were there to welcome me. My joy knew no bound. I swapped my cash-card for the last log. This marked the end of a successful mission.
I travelled a total of 2421 km in 35 hours and 12 minutes on a 97.2 cc Hero Splendor motorcycle. I am the first (in India) to do this successfully on less than 100 cc motorcycle. Thinking of the event I realised, the mental strength pumps up the self-confidence and up thrusts possibilities of success. While riding, I felt that both motorbike and the rider have to be equally competent. We should not underestimate any man or machine without verification. We need to dare ourselves, for success to follow.
My social media:
Facebook Page: https://www.facebook.com/sahadevjeet
Twitter Page: https://twitter.com/devjeetsaha
Instagram: https://www.instagram.com/devjeetsaha