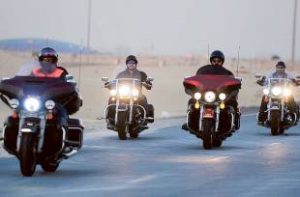 A group of four Dubai bikers (Vivek Mehta, Antongiulio Goracci, Raed Mikail, and Monir Abdalla) completed the 'Kings of the Road' challenge last weekend by riding 2,564km around the UAE in 34 hours 50 minutes and 10 seconds, it was announced on Sunday.  The challenge, which has only been completed by 61 people worldwide, involved riders to travel 2,500km on their motorbikes in 36 hours.  The team, which included Dubai residents from India, Palestine, Jordan, and Italy, set off on December 11 at 5am from a petrol station on Al Khail Road, riding 1768km on day one.  After a three hour rest, the team was on the road once again with the finish line in goal.
Team leader Vicky Mehta said while the challenge was harder than he anticipated, determination kept him going.  "The biggest challenge is mind control. I realised during the ride that physical fitness and practice are important, but not as much as mental control and pushing your limit," said Vicky.  The 53 year-old Dubai resident of 28 years-old, said he has been preparing for the ride for years and is happy to be among the first to achieve the challenge in the UAE.
Fellow Italian rider, airline pilot Antongiulio Goracci, 48 said he found that good planning is fundamental for a safe and positive outcome. The team's route planner said the memorable experience was more challenging than he anticipated, but it is a ride he is planning to do again. "The ride was harder than I thought simply because of unexpected issues, like the intense cold at night. But the main thing I learned is that big projects only succeed due to teamwork," said Goracci.
The team made 15 stops along the way and completed their riding goals by touching the border of each emirate, before returning to their starting point to end the ride on Saturday.  They also collected petrol pump receipts and marked their progress at each stop. The receipts will be submitted to the Long Distance Riders Association, and the Iron Butt Association for certification.  Each member of the team will receive a certificate along with a badge to pin onto their leather jacket.
With congratulations and wishes pouring in on social media, Vicky along with other riders are planning their next challenge- the Coast to Coast challenge in the US, where they will attempt to ride 3,500km in 48 hours.
Jumana Khamis, Staff Reporter
December 13, 2015 – Image Credit: Arshad Ali/Gulf News