In early October 2014, almost exactly one year ago, brother Wissam R Zebian invited me to be part of a long distance ride attempt. The challenge was to ride a motorbike 1610 km within 24 hours.
I was so honoured to be chosen to be part of the team making the attempt. I had been riding with the HOGS for only 8 months, my new bike was only about a month old and I was the only non-road crew selected to be part of the challenge.  I learned an important life lesson that day when I saw Wissam personally plan and lead the attempt.
Now Wissam has already achieved the much higher level of KING OF THE ROAD (1500 miles in 36 hours) many years ago. So I started asking myself why would someone who is a KING OF THE ROAD be there for an Easy Rider attempt?  It's time consuming and tiring.  The answer that made the most sense to me was because he was mentoring us. He wanted to make sure his team succeeded. He would get nothing in return in terms of further patches and certificates but only the gratitude and blessings of his team.  That and the feeling that his knowledge and experience was of help to another being.  As the Dalai Lama said, The prime purpose in life is to help others.
The only way to repay such kindness is to learn by the example and pay it forward.  I was therefore very happy that I could assist a team of three brothers, Antonluca Boracci, Wael Jandali and Monir Abdalla, to attain the certification of Easy Rider (805 km in 12 hours) yesterday.
This was a preparatory scouting ride as part of a KING OF THE ROAD attempt pencilled in for mid November 2015. The main goal was to scout some roads to check suitability for the forthcoming KING OF THE ROAD attempt and for some brothers, to check how the bike and body reacted to an endurance ride. We left at 6 in the morning from Hessa pump. Just to dry run things, the team filled in start forms and started collecting petrol bills with bike number and odometer readings, exactly following the procedure for the KING OF THE ROAD challenge.  I decided we would go to the Liwa region.
At one point, we were rather saddened that what was clearly shown as a good road on Google Maps turned out to be a rough sandy path going steeply up a huge dune. Even 4WD were struggling to go up. Now we would have to go back about 40 km since there was no way the bikes could move forward. The whole route would need to be altered.
Exactly at the moment of great disappointment came great happiness as suddenly about 20 gazelle decided to cross the sand dunes just about 50 metres from us. What a beautiful and rare sight!  Reminded me never to feel sad as you never know what is just around the corner.
At another point, we were approaching a Gas plant in Liwa and there was a security vehicle close to a road block. As we approached them, suddenly 3 mean looking guys jumped out and pointed rifles at us. My blue jeans changed color to brown. I desperately signalled that I would do a U turn and was relieved when one of them opened up a path that allowed us to turn around and disappear as fast as we could. I was so scared, I didn't realise that it was the first time in my life I did a U Turn within18 feet!
At that point, it appeared that there was still a chance to achieve the TIN BUTT (Easy Rider) certificate if we gave up further scouting  and made a dash for Hessa Pump. I forced the speed up to about 140kph along E11. We made it back to Hessa Pump having done 815 km within 11 hours and 17 minutes ie successfully having completed the TIN BUTT (Easy Rider) challenge.
I remember the feelings in my heart when I had respectful approached brother Wissam and requested him to sign my form as witness for my challenge. Yesterday I could understand the feelings in his heart when my team asked me to sign their forms as their witness for the TIN BUTT (Easy Rider) challenge.  Thank you everybody, not only for helping me become a better biker, but for helping me in life's journey with your beautiful thoughts, deeds and examples.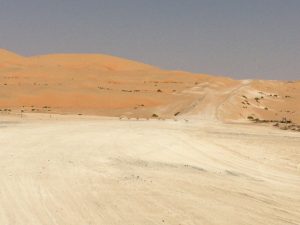 Map said this was a perfect road!