The 1500 Mile Adventure with Sean Kester and Ron Clanton
We began in Fate, TX with me, Ron serving as the navigator. This was fine until about 1 mile into the trip when my GPS attempted to take us East in order to go West. As you know, riding down the highway is no time to fight your GPS so I went with the route I know. The trip to Albuquerque and on to Flagstaff was uneventful after that rough beginning. I did enjoy getting to stand on a corner in Winslow Arizona.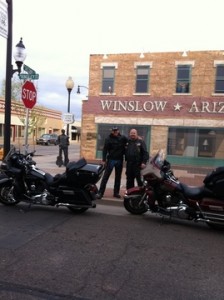 After arriving in Flagstaff and completing our documents, we ate at Cracker Barrel and then went to wait for Grand Canyon Harley to open. Two hours later, we got back on the road to pick up our wives in Las Vegas and then continued on to Zion National Park. Just before reaching Las Vegas, we realized that we could fairly easily complete the 1500 in 36 if we could get the girls loaded up quickly. So sitting in Vegas, we had 300 miles to complete and 6 hours to do it in, easy right Sadly, our lack of foresight and wasted time in Flagstaff caught up to us when a MASSIVE storm rolled over the mountains as we arrived in Mesquite, NV. We rolled through some tight, twisting canyon roads at a pretty quick pace until it was clear that the rain was only getting worse. 80 miles short, we pulled over for dinner. Ah well, we still had the return trip to go.
Our time in Zion was great, including an unexpected ride over a 9900 foot pass with snow 5 foot deep on either side of the road. I say unexpected because the temperature dropped to the low 30's and I only had a t-shirt. So while everyone else was dressed appropriately, I looked (and felt) like a fool.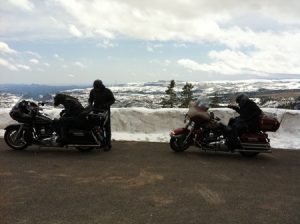 Back to Vegas for three days and then Sean and I started with getting our picture taken in front of the "Welcome to Las Vegas" sign by an enterprising young woman who would take your picture for tips.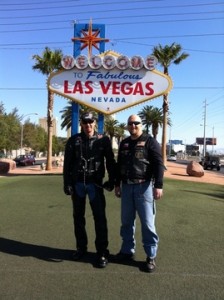 We then head to see the Grand Canyon, which was my first time.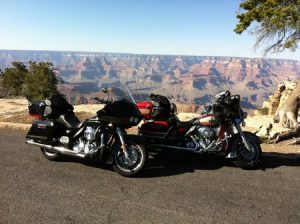 I attempted to play it cool as we walked up on the edge but couldn't stop "WOW" from escaping. Sean was a patient tour guide as we spent far too long admiring the view. I also didn't count on the next 50 miles having a speed limit of 35 MPH. This combined to put us about an hour behind my schedule. On through Tuba City towards Teec Nos Pos where we went through a 2 hour sand storm of red clay (yes over 100 mile wide sand storm). We continued to Farmington NM and then headed for Los Alamos and our hotel.
You might notice from our route that we never made it to Los Alamos. First my GPS once again struggled with the idea of heading the direction I preferred, so we stayed a while longer on 64 than we should have. This was all trivial compared to the excitement to come.
There are 3 realistic routes from Farmington to Los Alamos. The safe one on the interstate, or two different 2-lane back roads. I chose to take the one called the Los Alamos Highway out of Cuba, NM. This would have been a beautiful ride in the daylight but as it was now midnight and we had been on the road for 13 hours, it was all we could do to stay focused on the twisty mountain roads. Then the real excitement… ELK! I don't mean a single elk; there were moms and kids in groups. One group, a second, and a third and a fourth. They were beautiful and huge and definitely got our adrenaline pumping as we both knew a single impact would end our trip in a bad way. Just about the time we had gotten into a routine with the elk, an odd cattle guard appeared and then…DIRT ROAD. I couldn't believe this was happening so I continued on. Sean being a real trooper is still following and so far not cussing me out over the CB. The road stays dirt; one corner; and another; and another. Finally I was mad and embarrassed so I pulled to a stop. Sean quickly concurred that a rutty dirt road at night on Harleys in Elk Country was more than we signed up for, so we turned around.
Back down the twisty roads and yes, the elk are back. Even one group of mule deer this time. All of these paled to the final act. Just before leaving the forest a HUGE 6×6 bull elk was in the road in front of me. His escape route of choice was to go directly up a vertical cliff on the right side of the road. He was beautiful but my only thought was "don't fall on us!"
Back onto 550, we headed towards I-25. We arrive at Bernalillo, NM just north of Albuquerque at 2 am and I decide that Los Alamos isn't worth the 160 mile back track. Sean agrees and we head for a Hampton Inn in north Albuquerque. Little do I know that sleep is not soon coming. Something called the Gathering of the Nations has hit Albuquerque and there are no hotel rooms. As we sat in the lobby of the Hampton, I called over a dozen hotels with no luck. Finally a Super 8 in Moriarty NM said they had a no show and if we got there first, the room was ours. I told Sean to follow me and back on the bikes we climbed. What I failed to tell him was that Moriarty is 48 miles away.
I also learned one more lesson on this short stretch. NM has evidently decided that snow plows will no longer destroy their road reflectors, so they cut holes in the road to lower the reflectors. That is fine except that the holes are just the right size for a motorcycle tire. That would normally not be a big issue but 15 hours on the bike and being 3 am, I didn't handle it so well. A few bone jarring hits and I swerved out of the rut and then aggressively back into our lane. Sean's only thought…I wonder why he didn't use a blinker.
Well we got the room, slept 4 hours, and beat a straight line for Fate. I realized that we would be about 10 miles short if we went directly home. So a jog down I-35 to I-20 to 635 gave us an additional 12 miles and we were home free.
Thanks for laying down the challenge and letting us know it was possible. Those were great rides with my best friend that I will remember for the rest of my life.
Now for the coast to coast!!!
Thanks
Ron Clanton