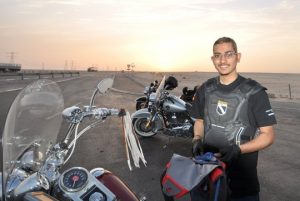 Written by Mike Bastow LDR Member and Friend
On 11th March 2011 a group of 15 riders including 3 women and one of our youngest members, Akash Dube (just 18 years old) successfully completed a 1700km journey around the UAE. We are particularly proud of Akash, in addition to being one of our youngest members he is also a Leukaemia patient and was still on chemotherapy when he undertook this challenge. Despite my reluctance to accept him onto the ride for his own safety his parents assured me that he was so determined to do the ride that I could not refuse. I have to say he kept the pace all the way and never complained (which is more than can be said for some of the veteran riders!! ) Many of us learnt a great lesson in humility and determination from this young lad. After the ride I received an email from Akash thanking me for organising the ride saying it was "one of the greatest experiences of my life. I cannot wait for the next King of the Road challenge and then on to Born to be Wild Coast to Coast!
I wanted to share this experience with you and also thank you for initiating these challenges. You may not realize this but LDR has given us all, and one particular young man a positive outlook on the future and something to look forward to. I am proud to have been part of this journey – thanks Jack!