LDR member Tom Neal tells about his King of the Road 1500 Miles in 36 Hours and also the Full Throttle 1000 Miles in 24 Hours ride.
Family and Friends Motorcycle Trip Day 1 –
The ride started in Olympia at the Shell gas station on the corner or Union and Plum. We all gassed up, said our goodbye's to our families, and started up I-5. The goal was to reach Gold Bar by 8pm. Traffic in Olympia was thick, but moving at the speed limit. By the time we reached Fort Lewis, we were in stop and go traffic. The group of 5 bikes made the way to hwy 512, and onto hwy 167 with no issues. A little slow down towards the end of hwy 167 as we neared I-405. I-405 was pretty clear as was hwy 522 into Monroe where we caught hwy 2. Monroe is a nice little town, and Hwy 2 took us to Gold Bar. The moon was a day away from being a real "full moon", but it looked full to me. It was a beautiful orange glow behind the mountains.
We arrived at the Stevens Pass Motel a little after 8:30 pm, and stayed in a pretty decent room. It's not a 5 star hotel, but I would definitely stay there again.
Day 2 –
Gold Bar was about 54 degrees and clear, the ride up Stevens Pass was spectacular, and the temps didn't drop too much lower. We followed Hwy2 into Leavenworth, which is a beautiful little Bavarian town. Gassed up, and grabbed some warm drinks in Wenatchee, then continued on. Next stop was Coulee City, where we met up with my wife Jahanel, and my kids. They left Shelton that morning after Jahanel's dad got off work, made a stop in Soap Lake, then into Coulee City. Jahanel followed along with us for part of the trip. We made our way down Hwy 2 through Washington, into Idaho, and on to Libby Montana for the night.
Libby is another one of those great little towns, and the people we encountered were awesome. Did a quick repair on moms Harley, and she was ready to go. Her rear turn signal bar/ license plate holder has loosened from the fender. Many turns on the nuts, tightened it up, and was ready for action.
Day 3 –
The ride from Libby to Shelby Montana was not long for distance, but was a fairly long day in terms of time. We went through Glacier National Park, stopping along the way for a gift shop, a nice little hike, construction, Logan's Pass, and a picnic. The ride was spectacular, with winding roads, beautiful scenery, and I was on my motorcycle, could you ask for anything more While in Glacier, we traveled the "Road to the Sun" which was the part under construction, but was worth the extra time and "trouble". We joke around about getting caught in the best traffic jam. Stopped for a picnic lunch on the east side of the Continental Divide, with a gorgeous backdrop. Then made our way into Shelby Montana, where the bikes stayed the night, I said goodbye to my wife and kids again…. They all continued down to Yellowstone for a day of fun, then on home for work and school. We didn't see too much of Shelby, just the hotel and truck stop for dinner. I did spot a U-haul trailer with an advertisement of the city where we would be starting our trip in, Mitchell South Dakota.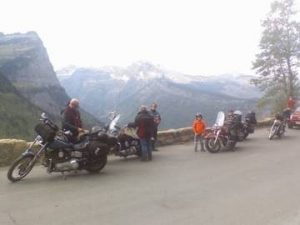 Not ALL traffic jams suck!!! We got "stuck" in construction on the "Road to the Sun" in Glacier Natl. Park
I don't mind traffic jams like this…lol
Day 4 –
The ride started great with some more of the beautiful Western Montana views, but then dropped into the plains. I am not a huge fan of flat area's, or the plains, so I was pretty bored, until the last 13 miles or so of Hwy 2 in Montana that was all torn up. We traveled on gravel, pot holed roads that were in pretty rough shape. Montana is making that stretch 4 lanes, which will be great when they get done, but until then, it's not too much fun. The day ended in Williston North Dakota. Nothing too exciting happened here, we stopped at Wal-mart for a few supplies.
Day 5 –
This morning we woke up to some killer looking lightning storms. Rolling thunder, and awesome looking bolts from the sky. I miss the mid-west thunder-storms!! Until it's time to ride in them. Dad has a tall sissy bar on his bike that makes for a great lightning rod, so he was a little unsure about riding in the storm. Good news is we started out at the front of the storm, didn't get too wet before we rode out. We stopped for gas and breakfast in Minot, North Dakota, where we realized Dan had a screw loose….. Actually it was his bike, he had a lot of screws loose holding his windshield on, and one fell out. We tightened them all up, had breakfast and moved on the Rugby, ND. Rugby was a stop for gas, but also a stop for mom. She has been to the "Center of the US" and wanted to stop in Rugby which is the "Center of North America". There was a cool monument there to show that you are in the center of north America. The day ended in the no-where town of Fosston Minnesota. If you ever get to the area, you have to stop in at the A&W restaurant! They make their draft root beer daily in the basement, and is the best A&W root beer I ever tasted. There was kid working that night, maybe 17 years old, who came outside to the picnic area we were seated at, and started cleaning up our mess for us. Awesome kid, great personality. Asked us if we wanted refills on the root beer, we said no until he informed us the root beer was made fresh in the basement, and he proceeded to tell us how. Needless to say, we all got refills on the great draft!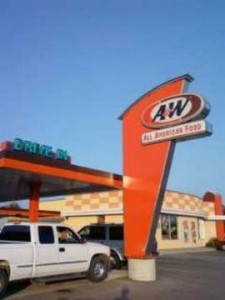 A&W in Foston, MN. – fresh draft root beer – AWESOME!!!!
Day 6 –
This leg of the trip took us through Minnesota, we had to make a stop in Deluth at the Harley dealer to pick up a new headlight for moms low rider. We had originally planned to stop at the Amsoil factory for a tour, but was never able to confirm a time. Partly our fault for waiting so long to contact Amsoil. It only gave them a week to make arrangements. Oh well, next time I will call sooner. We had a gas station deli, picnic lunch on Lake Superior. What an awesome lake!! This thing is HUGE!! The plan was to get to Iron Mountain, but we ended our day a little early in Ironwood Michagain instead. We all decided we wanted to get off the road a little early that day, the sun was hot, and we were getting worn out.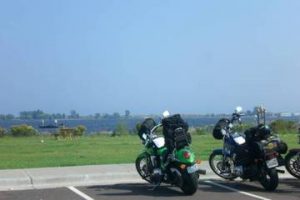 Lunch break at Lake Superior
Day 7 –
Well, we did not travel down through Michigan as originally planned, we took a scenic ride through Wisconsin, through Wisconsin Dells and into Monroe, where Dad and Dave got new rear tires installed. Mom made some calls while in Ironwood to get the tires, and these guys bent over backwards to get our guys in. We made our way into Freeport Illinois a day early to take a day of rest before our rough ride.
Day 8 –
This was a day to jerk around, do some laundry, see some family and the "sights of Freeport".
Day 9 –
We made our way out of town early as usual, through Galena Illinois which is beautiful, then into "Corn Country" Iowa. I swear I did not see anything beside corn fields for 300 miles!! This was the most boring part of the trip for me, until we gassed up in Nebraska. After gas we went north to South Dakota, but when we left our gas stop, we had huge thunderstorms! It rained so hard, cars and trucks were pulled over to the shoulder, the wind blew so hard, that when we stopped under an overpass, we still got soaked. Rain gear did a great job of keeping water INSIDE. Dad donated his rain gear to the homeless somewhere before Mitchell. We forged on through the storm, and into Mitchell South Dakota. Dan and Dave went to see the famous Corn Palace, I decided I had seen enough corn.
Picture taking pretty much ended when we got to Freeport, not much to see but corn, then it rained for most of the rest of the trip….. I don't have a waterproof digital camera…YET
Day 10 –
"The trek through Hell"! This was the day we would all remember… It was my 35th birthday. That's not the memorable part, but doing over 1000 miles in 16 hours on the bikes through South Dakota, Wyoming and Montana is memorable…. Especially when the first 500 miles in all thunderstorms and hard rain. Again my rain gear did a great job, it kept me wet inside….lol The rain stopped in Montana, I dried out the next day…We made it into Alberton Montana about 2 hours behind schedule, but still in time for our goal. Stayed at a great little bed and breakfast motel, called Ghost Rails Inn.
Day 11 –
36 degrees and clear at 6 am when we left, but as we rode up into the mountains, temps dropped to somewhere around freezing, maybe a little less. We made our way to Postfalls Idaho for gas and hot drinks. We are heading home!!! Just before we reached Moses Lake Washington, Dave's bike had issue's. He actually had a couple issues, the rear tire had been chewed up by a fender bolt, oil was flowing out of the breather tubes in the heads, and out of the air cleaner and the bike overheated. He tried to "limp" the bike into Moses Lake, but it gave up. We pushed it into the Shilo Inn parking lot, gassed up the remaining bikes, he saddled up on the back of Dan's bike and we continued on. 4 bikes and all 5 riders made it into Olympia with time to spare! We did it, we made 1000 miles in less than 24 hours, and 1500 miles in less than 36 hours! We succeeded in our goal.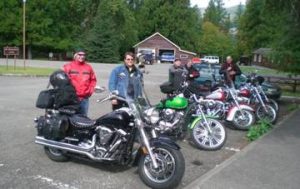 All 5 bikes and riders at Glacier National Park