LDR 500 Mile Easy Rider Member Sean Kester talks about his qualifying ride.
1500 Miles on the 883
October 2, 2010, Saturday morning, my brother Ron "Scrapes" Clanton drops me off at DFW airport. He 'commutes' to work in North Carolina every week, so he knows the way to the airport. I'm flying to Los Angeles to pick up my sis-in-laws Harley and ride it 1500 miles back to Fate, Texas. It's a solo trip, but all my biker brothers wanted to come along – and I wish they could have! But solo is a fun ride too and it's good for clearing your mind.
The bike is a hundredth anniversary XLH 883 Hugger – a sporty. Even with saddlebags, it's not one for riding long distance. The Hugger was the predecessor to the Low, perfect size for smaller riders. I'm just over 6′ and closing on 200 lbs – huggable, but not a low kind of rider. It wasn't half a day into the three-day ride when I started wishing she'd bought at least a nice Heritage Softail instead of the piglet.
In advance of the ride, my dad-in-law, Craig "Papa" Matthews, shipped out some accessories to make the ride a bit easier. So when I arrived Saturday afternoon, my bro-in-law Harry and I got right to work bolting things on. We added a tiny little windshield (hey, it killed some of the bugs). We put on the engine guard and highway pegs so I had some place to stretch out my 34″ legs (the Hugger has mid-controls). I strapped on a gel pad for the seat to at least prevent some of the inevitable monkey butt. We changed the grips to something more appropriate for my large paws. Last but not least, we added the cup holder – which turns any bike into a touring machine.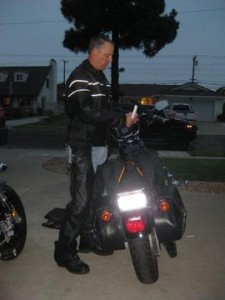 Ready To Leave California
Tool-wise I had my standard set of goodies which is typically enough to do anything short of swap the engine – assuming I can do anything with vise-grips and duct tape. Biker brother Craig "Big Hawg" Prigmore sent me with a fork bag and a tire repair kit. I filled the tires with nitrogen for an extra measure of security against having to use that kit. I put a 20 oz fuel bottle in the fork bag, and I had another bottle in the saddlebag. With just 3.3 gallons of petrol in the tank, and miles of nothing, I wasn't taking chances.
Harry and I changed the oil and filter, and I stowed a spare quart in the saddlebag. We changed the spark plugs too – which ensured I had a set of spare plugs. My tools, extra fuel, oil, and Frog Toggs filled one saddlebag. The other saddlebag held paperwork, some clothes, and my toiletries. I still had to strap a bag on the rear fender behind the solo seat with a bit more clothes, sweatshirt, and my ride bag with gloves, sunglasses, and a couple Schampa face masks.
The bike was packed and ready to roll, so Harry jumped on his Suzuki M50 and we took a ten-mile check out ride. Everything checked out great. Jiffy stand was going up at 7am, so I hit the shower and the bed by 10:30 to dream about the ride.
Sunday – I'm fine with directions, but getting out of the LA suburbs didn't appeal to me. I figured Harry needed an excuse to escort me to Barstow, and he agreed. He had a couple friends that wanted to ride too so we planned on four of us for the first leg. His friend rented a Street Glide for their day trip, and he rented his son a V-Rod. The son made it about five blocks from the rental place on Saturday night before he dumped the V-Rod. Not hurt (besides ego), but enough damage to the bike that it had to go back to the agent. Bummer, but I did have to wonder about renting a bike like that for an inexperienced rider. So at 7am, just three of us rolled out on a beautiful, cool, California morning.
We went a whole mile to the gas station to top off and get a receipt. I had to get fuel receipts to document the ride for a patch from the Long Distance Riders group (www.longdistanceriders.net). With 602 miles on the odometer, the three of us departed Garden Grove to wind through the LA roads and find a freeway north. Harry led us, Ed in the middle on his rental, and I brought up the rear. We went about 60 miles before the first stop (Fontana, CA), which I needed for a mileage check. At a slow rolling Sunday cruise out of LA, I was getting 50 miles per gallon – all good for my planned gas stops. We then rolled out toward Barstow, CA.
The 57 miles to Barstow was a beautiful ride through the area north of LA. During the ride I checked out various positions to get comfortable. Those positions worked great – for the first 110 miles. Pretty much after that comfort was out of the question, and it was purely endurance. We rolled into a Shell station in Barstow and topped off the tanks. I bid Harry and Ed good-bye so they could ride back to LA and I could run 1400 miles more solo. It was great to have the escort and company to Barstow.
Out of Barstow, I jumped back on I-25 north and hit the gas toward my next planned stop. It's an interesting feeling facing a solo ride of 1400 miles. Blues legend Buddy Guy sings a lyric that runs through my head as a ride.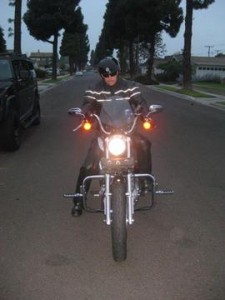 "One leg in the east, One leg in the west and I'm down here in the middle just trying to do my best."
Buddy wasn't talking about a motorcycle, but the mood still seems appropriate as I traveled to the next gas stop. I pick up I-40 east and clock a quick 55 miles for a gas-n-go stop around Ludlow. A bunch of bikes heading west tell me I'm certain to hit rain on the next leg to Needles. They tell me it's not as bad as a storm in Oklahoma, but I won't miss it. For about 12 seconds I consider throwing on the Frog Toggs, but my leathers should be fine. It's the last time I even think about that raingear.
Needles, California is a 91-mile run on the interstate. It gives me a good chance to try out a few more positions on the piglet. About 30 miles out of Needles, I can certainly see the storm potential and lightening is shocking the ground. I get a bit of rain and crunch into the official 'monkey-on-a-football' position. Ten miles out and it's a lot of rain! For the record, that piglet doesn't block rain, but the leathers do fine, and I'm only a bit damp rolling into a Shell gas station. For the record, I like that nitrogen enriched Shell gasoline. I seem to get a bit better performance and mileage using it on my bikes. Although it's not truly necessary, I typically run premium on rides.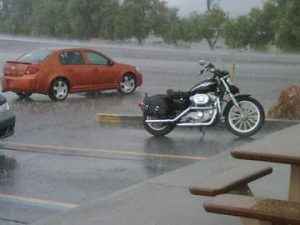 Since it's still raining and I see a Taco Bell nearby, I figure this is a good place to stop for lunch. Turns out I was right because as soon as I walk in the door, it starts really pouring. I place my order and the lady at the counter says its been raining like this for three days. Terrific news, so I enjoy a leisurely lunch. I no sooner finish, and the sun is out. Time to ride toward Arizona.
I hit Kingman, AZ for gas and I'm only running about 30 minutes off my planned schedule. Life's good and the ride proves to be beautiful with only a few showers — off for a long jaunt to Williams (113 miles).
As I cruise alone I see a gas stop in Seligman, so I seize the opportunity for fuel. This is a practice that will serve me well in the isolated runs through New Mexico and West Texas. Feeling good, I continue past Williams and aim for Flagstaff. The ride is lovely, but as I roll the mountain roads to Flagstaff, I run into some more light rain. And a caution sign that indicates 'fresh oil' – then a mile later 'loose gravel'. Oh and then the really good one – 'DANGER – ELK Next 35 miles". I just laugh out loud. If I meet an Elk at 60 MPH in the rain, on fresh oil, with loose gravel, on a sporty – at least I'll make the 5 o'clock news!
I make Flagstaff without killing any elk, and the rain stops. I take a nice break and gas up for the last leg for the day to Winslow, AZ. To get the patch I have to make Winslow by 7:02pm, but it's not a problem as I leave Flagstaff at about 4pm for the 60-mile trip.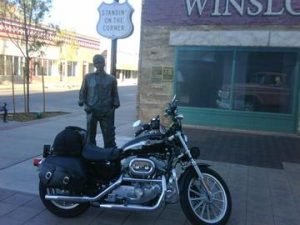 At 6:34 I get my last gas receipt for this leg in Winslow! 528 miles in 11.5 hours on the piglet – I made it! From the Shell station I see my Super 8 motel just down the street. I check in right behind a couple old guys who did 750 miles on their Goldwings. The guy working the counter is just super nice and I ask for a clean, cheap, room for a night of sleep. He gives me a better deal than I found on the internet in a room with a 'really nice recliner'. I unload my gear and call the wifey. Then I have to go find food! Around Winslow at 8pm on a Sunday, there's not a whole lot of options. Thank God for Sonic and the #2 burger with mustard, some 'tots, and a cherry limeade! Back to the motel, lock up the scooter and off to bed.
On Monday, I get going about 30 minutes later than I wanted to and I make a stop in 'downtown' Winslow for a photo opportunity on the famous Route 66 Corner. There's a sign that prohibits bicycles, skates, and skateboards – but not Harley's so…
And when the Winslow Fire Chief rolls up, I hop off the curb for a shot next to the 'flat bed Ford' (I'm not sure where 'the girl' disappeared to…)
Now that the Kodak moment is captured and the bike is warm, I check the oil and hit the road toward my next night's stop: Roswell, New Mexico.
It's always fun riding on a brisk morning. The eyes water – a lot! It takes a while to level out the tear flow and really see. Nonetheless, I find I-40 east and head toward Holbrook, AZ where I'll finally get away from the Interstate riding. As I glide through Holbrook to US 180, I see a VW repair shop. I don't need it, but it's cool because it's "Kester's VW Repair Shop"! Wooo-whooo – I feel famous! Too early for it to be open so I continue on to a gas station with one kind of fuel and pumps with old school dials. I tell the proprietor I haven't seen pumps like these since I was a kid. He tells me I need to stop by more often! As I load up to leave, I talk to a local mechanic/biker who tells me to watch out for the idiots and avoid Phoenix. I had my first street bike in Phoenix in the mid-eighties, so I know exactly who he's talking about.
Time for a nice morning run on US 180 to St. John's, and then on to Springerville. After about 85 miles, I find Springerville to have two gas stations – one without any working pumps and one station with gas. I talk to the old guy working on a Chevy and learn it's another 30 miles to any other gas, so I top off the little tank. There were a lot of cars being 'worked' on, so I'm not too sure about his mechanic skills. Off on US 60 toward Magdalena, New Mexico.
After Magdalena, I'm aiming for a brief jog on I-25 south and then pick up US 380. While on I-25 I see a couple signs for the Owl Bar and Grill with the "Worlds Best Hamburgers". As I jump from 25 to 380, I gas up in San Antonio (New Mexico, not Texas) and right next to me is the Owl! Great timing for lunch! It's a nice dive, and I grab a seat and order one of those burgers (and the only beer I'll have on the whole trip). Damn if they weren't right – that sloppy green chili burger was the best in the world! Go get one if you ever have the chance.
Back on the bike and on US 380 for almost the whole way home. I'm trying to make some time up and get to Roswell before 6 PM. There's a Harley dealer there and I want to get a T-shirt and some koozies for my brothers back home. Through Capitan, it's about 150-mile ride with lots of open nothing in between. About 20 miles outside of nothing, a New Mexico State Trooper has the lane blocked, but he's waving everyone past him and a box truck. Nothing to see here, so I roll on. Ten more miles, a good 30 miles between nothing and nothing, the traffic is stopped. Since it's a dashed line I pass and pause next to a guy in a pickup pulling a trailer and ask what's up. He tells me traffic is stopped because they're filming a movie – in the middle of nothing. I tell him I don't have time for a movie and I gas it and go. Of course, another Trooper (or three) has the road blocked so I get stuffed back in line. Only for a minute, and they open the road. Sure enough, there's a whole big bunch of people and trucks and movie people at some rock store in the middle of nowhere, New Mexico. I'd have stopped, but I didn't spot Angelina Jolie.
After the scene, several cage drivers (cars) are flying, passing everyone. One guy in a minivan is making moves. Next thing I know, traffic is slowing again, and he's stopped on the side of the road – backing up everyone. I spot him off to the side of his 'van – picking through the awesome black rocks (they must have been awesome to him, because he was in a hurry to get there). Somewhere later in the middle of empty land, I pass a whole big mess of huge radio antennas and surmise they really are looking for aliens near Roswell!
The clock is ticking toward 6pm and I'm still racing to the HD dealer. 'Racing' is a relative term as the sporty isn't really that fast. But I'm keeping up with traffic just fine. I go into fuel reserve and roll into the dealer parking lot at 6:03 pm. The place is empty! I missed it!
Wait – it gets better. They started their winter hours October 1 and they aren't actually open on Mondays. Sigh. Window shopping, I see a 2011 CVO Road Glide Ultra – in black! Just what I want!! I text my bro's and they tell me to get a brick, report the sporty stolen and ride the Glide home! They are such a bad influence!
Not one to commit too many felonies in one year, I just continue on the sporty to the Days Inn in town. It's been another 11 hour, nearly 500-mile ride, and I'm tired (and butt sore). The girl at the counter at the Days Inn isn't as cool as the old guy in Winslow, but she still cuts me a deal for a room to flop in. As I unload stuff for the room, I see my spare oil spilled a couple ounces in my left saddlebag. Nice thing I find in the room is that they provide some rags for such cleaning needs. Smart, as that saved their pretty white towels. I clean up a bit and walk across the street to a local dinner place to grab a meal. Bad choice and I won't even name the place. Just don't eat anywhere near a Days Inn in Roswell, NM. I was there over an hour and never even got a drink! Too tired to bother with the BS and not hungry enough to worry about it, I walk back to the motel and grab a shower and a pillow.
Tuesday – the final leg to home!! I wake up plenty early to get back on Texas time and get home. As I loaded up I met a guy riding with his two friends. Wayne's from Mississippi and they've ridden to New Orleans, Houston, Austin, Roswell, and were still going for another couple weeks. Nice! They were on three nice Harleys: Electra Glide, Fat Boy, and a Dyna all customized.
Since I didn't get dinner last night – Did I mention that was the worst service I've ever seen – I head to a McDonalds down the road a piece. I roll into the parking lot and circle around to find a parking spot where I can see the bike. A Mickey-D's truck is rolling all over the lot, and as soon as I stop, the manager tells me I can't park there. I tell him I wouldn't if I knew where his delivery guy was trying to go. The guy was all over the place! So of course he ends up parked so I can't see the bike.
Roswell is a bit obsessed with aliens, and I joked about it when texting my friends and family the prior night. But when I got to the counter and saw the girl that was taking my order, I was certain one of her grandparents had been abducted and had a roll in the space hay. I ordered tin foil with my breakfast so the aliens couldn't read my thoughts. I finish my Big Breakfast, toss the foil and head out on the 500+ mile ride to home!
First stop is 100 miles to Plains, and back in The Republic of Texas! Next stop is Post, then Haskell, then Jacksboro, then Decatur – not much to report on this part. I'm just trying to get my butt home and off this seat! And of course, from Decatur thru McKinney thru Farmersville I hit every light red. It did give me a chance to meet and talk with a guy on a very sweet 2010 Ultra Classic. Almost all blacked out and sounding great, he tells me he just did 1000 miles over the weekend. I tell him his 1000 was a lot more comfortable than mine!
It's getting dark when he peels off for home in Little Elm, so I pull over and change to the clear lenses. Off US380 in Farmersville, I pick up 78 and I'm getting close to home. I grab 6 to cut thru Nevada, picking up a Farm-to-Market market road. Great – it's just been paved and they haven't gotten around to painting lines. Just the fun I need – tired, butt sore, dark, curvy road with traffic and no lines. I make it to 66, hang a right and a couple miles later I'm in the neighborhood. I ride that last mile home standing up, skid into the driveway where the family is waiting with an ice cold Shiner Bock. Made it!!
Just over 1500 miles total, and right at 33 hours travel time – great little ride! Next time I do it will be on an Ultra!
For now, I clean the bugs off the Harley and the leathers, get two days of rest and then we load up a bike that fits me (Wolfie). Time for a three-day ride in beautiful east Texas with the guys and wives. 500 more miles and a great time at the annual Boo Benefit (www.boobenefit.org) – the best charity ride around!
Thanks to all my friends, family and brothers for support on the ride!!
Sean "Wolf Rider" Kester