We're Back!
Due to some unfortunate major computer problems, we are finally back and ready to continue with our certifications. I want to thank you all for your patience and understanding, and for some of you, your persistence to get in touch with us. I am truly sorry for the computer glitches, most of those I knew nothing about. But now we're back and anxious to get started once again, with reviewing your rides.
If you took any rides for certification in the last six months and were trying to send in your information to our web site, you can do so now. We can certify your ride regardless of the date. As always, be sure to send in your Long Distance Riders starting and ending forms along with your map and your receipts. Our forms can be downloaded from our site.
We appreciate your loyalty and you can be sure of the same prompt attention from us, to certify your ride as we have done in the past. Most rides can be certified within a two week period. We strive to gain your respect and will continue to offer the same high quality certificates and merchandise to document your certification. We're glad to once again be up and running. I look forward to reviewing your ride.
Ride safe,
Jack
Welcome to the Long Distance Riders Certification site!
Long Distance Riders (LDR) has been developed as a certification site to document your long distance riding achievements.
Would you enjoy testing your riding skills and endurance? Would you like to become a member of this elite motorcycle group? Then welcome to the Long Distance Riders. We are Bad to the Bone.
LDR is currently certifying four distinct motorcycle ride achievements:
(CLICK ON ONE FOR MORE DETAILS)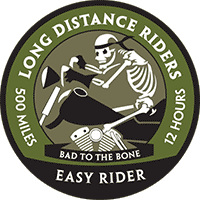 Easy Rider
500 Miles in 12 Hours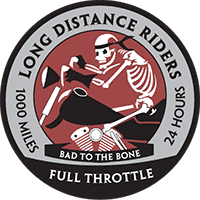 Full Throttle
1000 Miles in 24 Hours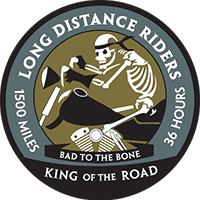 King of the Road
1500 Miles in 36 Hours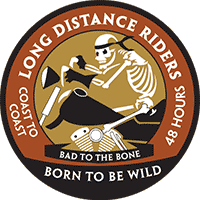 Born to be Wild
Coast to Coast in 48 Hours
*The following 2 certifications are eligible only to LDR members residing outside of the United States or where kilometers is a standard unit.*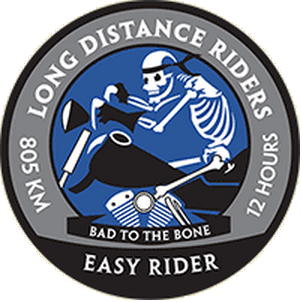 Easy Rider (km)
805 Kilometers in 12 Hours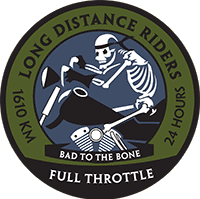 Full Throttle (km)
1610 Kilometers in 24 Hours
For each ride completed and documented, you will receive:
Certificate Of Accomplishment
Long Distance Riders "Bad to the Bone" Designation Patch for bragging rights
LDR motorcycle license frame and LDR decal
Motorcycle certification gained through other venues can be used for Long Distance Riders as long as all criteria is met.
Take a moment to read over the RULES page along with the documentation necessary to become certified. Once your ride and documentation is completed, send in your data for your official Long Distance Riders patch, certificate and license frame. I hope you enjoy your ride and the feeling of accomplishment that follows.
I would appreciate your input regarding our site, our logos and patches, and other rides and experiences that you would like to send. We look forward to hearing from you. Remember, most importantly, safety is our number one concern.