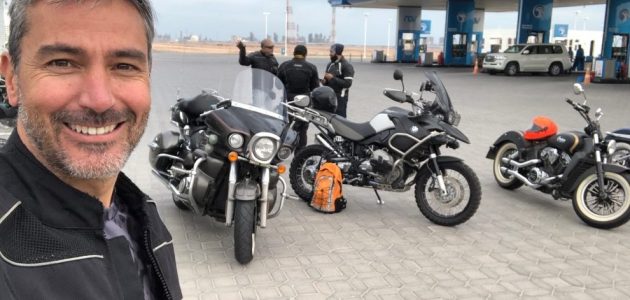 My eye caught this announcement on a Facebook group: "Ride 1610 kilometers in 24 hours in the UAE". There's all sorts of wrong about this! Firstly, part of the bike touring culture is to explore many places, stop wherever you see something interesting, take pictures, have a refreshment with your buddies and take time to bond.  Why would anyone think it's a good idea to spend probably 20 plus hours in the saddle in one day?
If you've done some touring on your boney, you would know that even after a couple of hours, your back will feel like you've had to carry your mother-in-law up the Burj Khalifa, your butt will feel like you forgot your homework back in a 1980's History class, and spare a thought for those who do not have wind screens – they will boast knowing what a sparring session with Mohammed Ali feels like.
Well, of course I said yes! I'm IN like a Kim Kardashian thong.
Another 70 slightly off-center biking enthusiasts said they're ready to swing their legs over the saddle on 15 March 2019.
Fortunately, Vivek had the wisdom and experience to suggest we do a trial ride. Vivek Mehta is the organiser of the "BIKER BUDDIES BROTHERHOOD 1610KM IN 24HRS RIDE". Of the 70 Iron Butt wannabees, 9 showed up for the trial ride on 15 February. With all the required enthusiasm and confidence, we set out to do 805 kilos in under 12 hours, riding to Liwa and back.
The 9 brave souls congregated at the Emarat Hassa service station just to the South of Dubai. As bikers do, we ogled each other's weapons of choice for the ride and complimented each other on the impressive rides. There were the "limousine" Harleys with heads-up display, rear view camera, park distance control and automatic lipstick applicators. We had a few JBR Walk cruisers without windscreens and loud pipes. Of course, we also had the Dakar trainees on their dual-purpose adventure bikes. We all secretly hoped our bikes would survive and make our ride as comfortable as possible.
From Dubai we cruised past Abu Dhabi and followed the coast line of the United Arab Emirates towards the Saudi Arabian border. At Ruwais, we turned our headlights inland in the direction of Liwa. We were greeted with views of vast rolling sand dunes on all sides, until Vivek pulled us over in the middle of nowhere and proclaimed that we were standing on the Tropic of Cancer.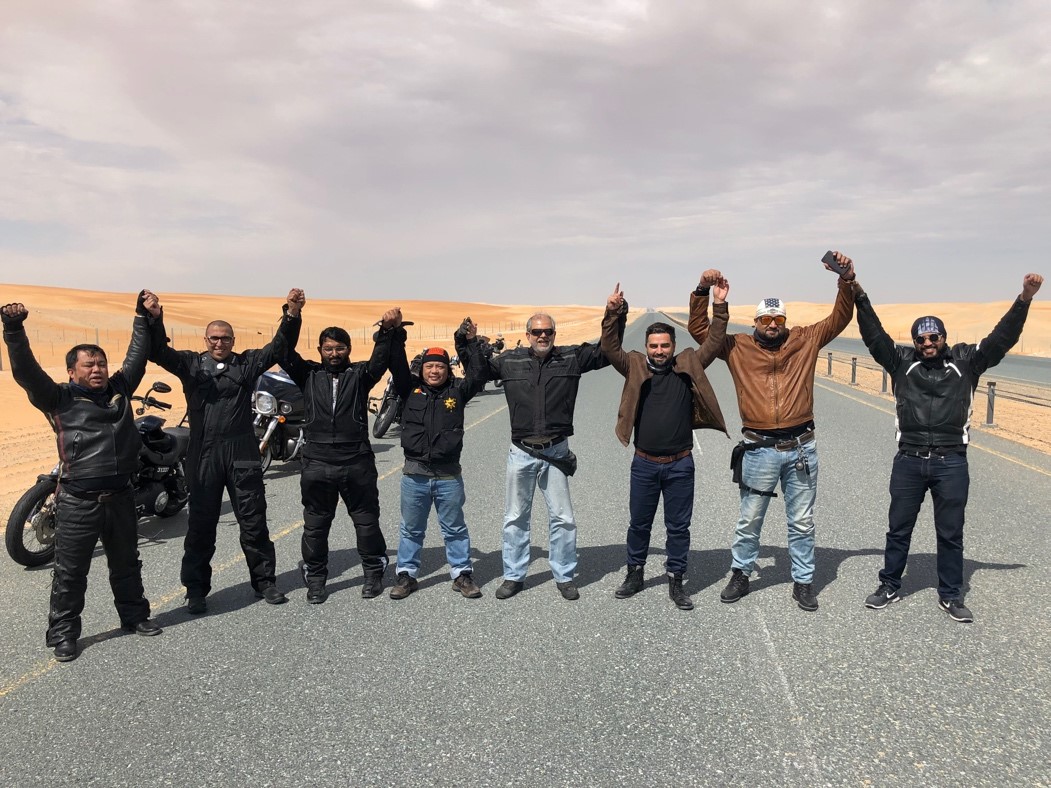 The Tropic of Cancer
After our short break, we pushed on to Liwa where we had a rudimentary lunch. The road from Liwa greeted us with the most spectacular sand dunes I have ever seen. I remember wishing I could turn off and go play in the dunes with my GS, but there's no time for that on an endurance riding challenge. We were all tired and aching by now, but our convoy tightened
up closer on the road and we kept going, back towards Abu Dhabi and all the way to Dubai. We arrived at ENOC Hessa just before 6 in the evening, with about an hour to spare.
All the bikes survived, but not many of us ended the ride exclaiming how comfortable the journey was. On the contrary, we probably all got off at Enoc Hessa seriously contemplating our leisure options for the 15th of March. Personally, I have to admit to visions of my couch and 20 episodes of Friends.  But that's where TOUGH comes in! Despite the tired bodies, we got off our bikes with high levels of dopamine pumping through our veins (Note to the authorities: This is a legal substance produced internally by our own bodies to make us feel good after physical exertion). Strangers who were now friends congratulated each other with high five's and bro hugs.
Now let me make a note about "bro hugs": We all would have loved to have some ladies on this ride too and the comradery of biking is certainly not reserved exclusively to men. Yes, this is a "Tough" ride, but tough has nothing to do with testosterone. It has everything to do with mental resilience and as a father of three daughters, I have a strong suspicion the female species outrank us in this attribute!
To all those who have put their name forward for the full 1610 kilometer ride on 15 March, know that this will be tough. It will be a proper endurance test. You may think at times of quitting, but you will also have brothers and sisters supporting you and going through this with you.  Meaningful friendships and deep bonds are not just formed when people of similar interest meet. They are formed when ordinary people go through tough challenges together and at the end they know they may not have made it, was it not for others' support.
Thank you to Vivek Mehta, Mohanad Mohktar, Akshay Haridas, Allan Janda, Subeesh Abbas, Ateef Hyder, Faisal Shah and Jayson Mercado for the shared journey. See you soon for the Big One!
This ride was audited and certified by Long Distance Riders (https://longdistanceriders.net). Those who complete and meet all the criteria qualify for the "Easy Rider" patch and certificate. The upcoming 1610km ride will qualify riders for the coveted and respected "Full Throttle" patch and certificate.
To sign up and/or follow the full 1610km ride, join the "Biker Buddies Brotherhood Full Throttle" Facebook group here: https://www.facebook.com/groups/2080390538919477
————————–
Author: Willie Maritz
williemaritz@gmail.com
Twitter @williemaritz
Facebook: www.facebook.com/willie.maritz
Instagram: www.instagram.com/wmaritz/